IRS Tax Problem Solutions & Tax Resolution Services
We're here to help you with the IRS!
We are Certified Public Accountants, a Personal Financial Specialists, Enrolled Agents in training, a Tax Resolution Specialist, IRS Representatives, and a highly-trained support staff.
Certified Public Accountants at Bott CPA Services presents accepted, properly structured successful solutions to the IRS.
We will do a cursory analysis of your tax situation over the phone and give you a preliminary recommendation of what might be done. We will represent you before the IRS ONLY IF we are convinced that we can solve your problem fairly.
We are not one of the national "form factories" that charge taxpayers a mint only to find out that their Offer in Compromise was not approved. The IRS is cracking down on those paper mills that take advantage of people and businesses. These untrained paper-pushers do nothing more than fill out the necessary forms to apply for relief. Their success ratio is less than 40%.
There are many options for solving IRS tax problems.
Have you ever asked yourself...
How do I set up or create an Installment Agreement?
Do I even qualify for an Installment Agreement?
How do I make an Offer in Compromise? (the most preferred but least achievable option)
What is Currently Not Collectible Status and do I qualify?
Is there a way to delay collection or payment of my taxes?
What is the Innocent Spouse Defense? Can I use the Innocent Spouse defense? (when your ex gets you into a tax mess without your participation)
How can I remove a lien?
How can I remove a levy?
What do I do if I disagree with the IRS?
How do I catch up filing past, unfiled returns?
What is Bankruptcy Payroll?
What do I do if I haven't paid my businesses payroll taxes?
Can I get Tax Penalties removed (abated)?
How do I handle an IRS Audit?
What are Collection Appeals?
What are IRS Appeals?
How can I stop Wage Garnishments?
Certified Public Accountants at Bott CPA Services can help you with all of these questions and more!
Many times, through no fault of your own, you find yourself having to address issues with the I.R.S.
Common problems faced by many Americans include:
Getting behind on filing returns,
Being roped into a mess made by an ex-spouse
Owing more than you can afford to pay,
Failing to pay payroll taxes for your business,
Being faced with a life-time financial hardship (like sudden disability),
Failing to set aside enough income during a year to pay the IRS come tax time.
We Can Help You Solve Your IRS Tax Problems!
Solutions for tax debts are now more achievable than ever. Sometimes, taxpayers can resolve the issues themselves with a little research into the proper forms to complete, how and to submit them and the fee for submission, if applicable. Fortunately, the IRS is no longer the ogre it used to seem to be. The I.R.S. announced a major expansion of its "Fresh Start" initiative to help struggling taxpayers by taking steps to provide new penalty relief to the unemployed and making Installment Agreements available to more people. Call our Certified Public Accountants at (405) 721-8558 to learn more about the Fresh Start program and find out if you can take advantage of it.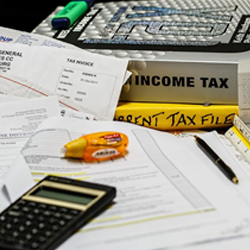 Even with the introduction of President Trump's Tax Cuts and Jobs Act, taxes are not a simple matter. The U.S. Tax Code is about 75,000 pages long. In addition to the Tax Code, there is an Internal Revenue Manual used by IRS employees to determine procedural applications.
It's no wonder taxpayers have difficulty complying with the regulations and accurately reporting income.Some taxpayers fail to file their reports at all, a crime punishable by fines and even jail time.
Whether people get behind reporting taxes; cannot afford to pay their taxes; make errors on returns; or commit outright fraud or tax evasion, they shouldn't face the IRS alone. They need qualified experts who can who can implement properly structured solutions.
Some of the most common areas where people need professional assistance include
Penalty abatement, where fines and penalties are forgiven under the proper circumstances.
Calculation error correction.
Lien release, withdrawal or subordination when the government stakes a claim to the taxpayer's property, wages, or bank accounts.
Levy releases or withdrawals where the government takes action to seize any kind of personal property including bank and savings accounts or retirement accountants.
Offers in Compromise where the taxpayer and the I.R.S. reach an agreement on the maximum amount the taxpayer should be able to pay based on the assets owned, debt and income.
Innocent Spouse relief occurs when a spouse was married to a person who lied on the federal tax return, the innocent spouse knew nothing about the lies, and it would not be fair to hold him or her liable for the others' crimes.
An injured spouse relief is where one spouse is detrimentally affected by the partner's acts prior to the marriage.
Installment Agreements to pay off a tax debt over a period.
Employment Tax representation where an employer has failed to remit payroll taxes to the government.
Everybody wants to make an Offer in Compromise with the IRS. We hear carnival-barker-like advertisements on the radio claiming a company can save you pennies on the dollar. The truth is, not all Offers are accepted by the IRS. A few years ago, less than 20% of all offers were successful. In the past couple of years, the acceptance rate has increased to around 40%. Those aren't very good odds. The carnival barkers claiming they can reduce your taxes to almost nothing are organizations who fill out OIC application forms for taxpayers. Their success ratio is very small. They have charged taxpayers millions of dollars and not solved any problems.
Thankfully, we have a government that wants to work with taxpayers while protecting them from fraudsters. YOU CAN SOLVE YOUR TAX PROBLEMS! The non-professional so-called services provided by the giants who cannot help strategize your offer are being clamped down by our government.
Call us at (405) 721-8558 to SOLVE your IRS tax problems!
Don't pay the I.R.S. a Dime Unless You're 100% Sure of the Amount You're Being Billed and You Know Your Options.
Individuals or businesses in need of IRS relief from back taxes call us at (405) 721-8558 for a consultation from tax resolution experts. Tax relief specialists take the time to listen, understand your current situation and goals (including any immediate relief you may need to stop or prevent a wage garnishment, tax lien, or bank levy.)
Speak to a Certified Public Accountant, Tax Resolution Specialist and Certified IRS Representative. Based on your unique circumstances, we relate current tax relief laws to provide your best options to get immediate relief and reach the lowest possible settlement with the IRS.
We will discuss and explain the tax relief options available that apply to your issues and explain them in plain English.
Get your IRS tax problems resolved. You may choose to resolve IRS back taxes on your own, or utilize the expertise of tax specialists who will negotiate the best possible IRS resolution or settlement on your behalf.
Support offered by Bott CPA Services